Pin It
I was running errands at Target and I ran into the seasonal section - VALENTINES! All pink, red and a lot of heart shaped things, I couldn't resist. $5 for 5 heart shaped boxes of chocolates with messages? Why not? Maybe I could get away with a box of chocolate hearts for my Bunny Valentine (husband.)
Here are my finds - and possibly some suggestions for that special someone in your life!
I think this is a "nice way" of saying "im breaking up with you"
on valentine's day...
High Maintenance Valentine.
Affirmation or Denial? You pick.
For the "HIGH PERFORMANCE" Cassanova -
This reminds me of cheaters!!!
This one's for my hubby - because this looks like the spastic body
movements that i pass off as dancing to annoy him while he watches TV.
Is the world really this jaded? HAH! I salute the creative director who gave a go signal on this dramatic line of products. Clearly I was alternating between laughter and shaking my head in disbelief, and back to laughing again at Target.
Happy Valentine's Day! (in advance)
********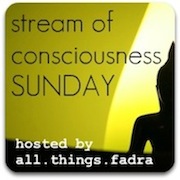 This was my 5 minute Stream of Consciousness Sunday post. It's five minutes of your time and a brain dump. Want to try it? Here are the rules…
Set a timer and write for 5 minutes only.

Write an intro to the post if you want but don't edit the post. No proofreading or spellchecking. This is writing in the raw.

Publish it somewhere. Anywhere. The back door to your blog if you want. But make it accessible.

Add the Stream of Consciousness Sunday badge to your post.

Visit your fellow bloggers and show some love.