I had the pleasure of taking event photos for the FIRST Lego League Tournament Brooklyn Qualifier 2012 last Saturday. This is an inter-school competition for the schools in the Borough of Brooklyn. The top 20 teams in this competition move on to the bigger competition where they compete with the top schools from the other boroughs of New York City.
The competition even baffles me because I cannot program a Lego Mindstorm NXT but these 4th graders can! To be surrounded by bright young minds is a humbling experience indeed.
Here are some of the photos from the event:
They program the robots to go though missions on this mat.
See this girl use two laptops to fine tune her robot.
Teamwork
They were asked to line up in alphabetical order of first names, blindfolded.
Observation judges watch each team in action and also interview them
to discuss how they functioned as a team. They identify teams that best
demonstrate enthusiasm, spirit, partnership, respect to their teammates
and others, and gracious professionalism.
Project Presentation
The teams complete a research project related to the topic of the year.
This is followed up by a presentation, and a timed question and answer
period. Teams can use props in their presentation like this muscle suit.
One team even made a website!
Technical Interview
Each team has a timed interview with a team of judges to discuss the
design and operation of their robot. Judges look for teams whose
work stands oud because of innovation and navigational consistency.
This is what they build and program. Lego Mindstorm NXT.
Robotics? Not just for boys.
Their banners say it all.
Pep talk to soothe frustrations. Kid in the middle was awesome.
Too short to reach over the table? Resourcefulness at its best.
It's not child's play. Really.
Stress levels run high for these kids.
YAY!
Woohoo!
YEAAAH!
I know it is disheartening to know that some of the teams did not make it to the citywide competition, however all of them walk out of the competition as winners.
Thumb's up!
More competition photos here:
FIRST Lego League Brooklyn Qualifier 2012
FIRST Lego League Brooklyn Qualifier 2012 - Participant Portraits
FIRST Lego League Brooklyn Qualifier 2012 - Volunteer Portraits
********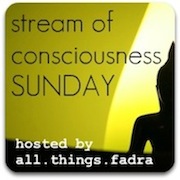 This was my 5 minute Stream of Consciousness Sunday post. It's five minutes of your time and a brain dump. Want to try it? Here are the rules…
Set a timer and write for 5 minutes only.

Write an intro to the post if you want but don't edit the post. No proofreading or spellchecking. This is writing in the raw.

Publish it somewhere. Anywhere. The back door to your blog if you want. But make it accessible.

Add the Stream of Consciousness Sunday badge to your post.

Visit your fellow bloggers and show some love.